My Endless Escapes
Looking for a reason to escape with your honey?

Are you planning on getting down on one knee?

In need a of a "just because" romantic weekend?

You'll love these romantic ideas, fun filled packages created by both out clients and Escape Artists.

We have romantic getaway, honeymoon, anniversary and wedding packages for couples across the globe.

Take a romantic weekend break and escape with the one you love to the most romantic resorts.

Enjoy quiet time with your partner.

Surprise your playmate with a weekend or week away together.

Our Escape Artists consist of destination wedding brides, certified travel concierges from around the globe that can arrange and advise on:

* Gift Registry
* Honeymoons
* Destination Weddings
* Couples Retreat
* Private Ceremonies
* Private Receptions
* All transportation and accommodations
* Added destination wedding bonuses and incentives
* Necessary paperwork, passport requirements and legalities
**We are available 24/7/365


The Escape Artist Experience:
Expert insights that will save you both time & money. We will personalize your escape experience based on your needs, not our own. We will be there when you need us, or more importantly even when you don't. When you book with Endless Escapes, we will take the time to design a vacation that is perfect for you.

Escape for Love

Start planning your Honeymoon, Destination Wedding or Vow Renewal today!

Destination Wedding couples - A wedding is usually quite an expensive affair that many will spend their life saving for. Beach weddings are especially popular right now in destinations like Mexico, the Caribbean and Hawaii. Group travel can be complicated, but when you work with the Endless Escapes Destination Wedding Team, we make planning a destination wedding as hassle-free as it gets!

Honeymooners - Few realize that the honeymoon can actually account for 20% or more of the wedding costs. Many of the leading romantic resorts and hotels around the globe are offering affordable honeymoon packages. The honeymoon team will help you navigate to your destination and do their best to keep your costs low, but more importantly exceed your expectations of an amazing honeymoon escape. Don't forget to ask your Escape Artist about a "free" honeymoon registry.

Call or email our Escapes Team today and ask about free Escape for Love opportunities at select resorts!
Exceptional
, 01-22-2013 03:25PM
By: Leslie
Endless Escapes -There is one word that describes Endless Escapes- Exceptional

Exceptional Service- The owner Danielle always keeps her clients up to date on any new information.

Exceptional Reputation- From the moment we walked in our resort at Secrets Silversands the staff welcomed us with open arms and knew Danielle from Endless Escapes. We were treated like royalty for a week. We even got upgraded to a full ocean view room that had Champagne and Fruit upon arrival.

Exceptional Prices & Packages- You can inform Danielle on what is affordable for you and she will work her magic to give you a trip of a lifetime

My husband and I are big travelers and when we look for an agent we want perfect service and honesty. You will definitely get both with Endless Escapes.

Sincerely the happy travelers, Todd and Stephanie
Thank you
, 01-22-2013 03:23PM
By: Danielle
My husband and I got married back in October and planned a honeymoon to Riviera Maya, Mexico thanks to Endless Escapes! Our trip was booked with ease, exactly the way we wanted it, for the exact time frame and a VERY decent price! We ran into a tiny snafu on the day of our flight to Mexico, but thanks to Dani always being accessible and only a phone call away, she gladly helped us out and got us back on track! If I were to plan another vacation like this, Endless Escapes would be the first place I would call. They are highly recommended! So thank you a million times for making our honeymoon exactly what we had hoped it would be!

Bethany and Brent Schiavone
Berks County Weddings Featured Specials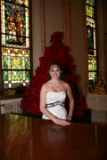 Complimentary engagement photos & Guest Book
Choose an 8 hour wedding photo shoot and receive a free guest book which