Pun Nuptials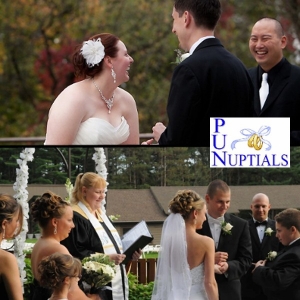 Pun Nuptials is a group of Independent Non-Denomination Wedding Ministers. Although we are all of different denominational backgrounds, we chose to be Non-Denominational so we can be there for anyone that needs our service! You do not have to be of a certain religion to be married by us, nor have any religious affiliations. We do not mind performing secular weddings. We believe it is up to you to choose what is best for your life and we would never force anything upon you. Please enjoy viewing our website. It is as full of information as we possibly can fill. If by chance you have any questions please feel free to email us and ask us anything. We are open to all possibilities. We are very open to ideas and love themed weddings. Please do not hesitate to ask us about anything you may feel is "off the wall" because it is very possible we would be interested in performing that particular ceremony.
SO HAPPY!
, 03-08-2013 01:51AM
By: Stefanie & David
I was so happy to find Pun Nuptials, we were having trouble finding someone to marry us, neither of us being members of a church, and since we were getting married about 20 minutes from both our homes. They were very flexible and created the exact ceremony that we wanted.
Berks County Weddings Featured Specials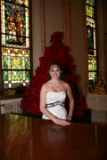 Complimentary engagement photos & Guest Book
Choose an 8 hour wedding photo shoot and receive a free guest book which